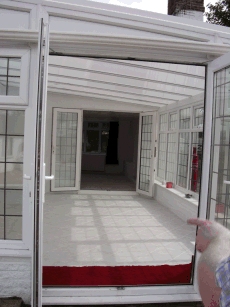 There wasn't originally a conservatory at York Cottage but some time in the late 80s or early 90s one was added without any planning permission. I'm not sure if planning was required at that time.

When the previous owners bought York Cottage they thought they were buying the house with the conservatory, but when the purchase completed and they moved in they said the conservatory had been removed. They were not impressed!

They got planning permission for another conservatory as part of the planning for the loft conversion. This was fitted before they decided to sell the house but they did not start the extension. As with the rest of the house the decor was completely white.