Patio
July 2006
| | | |
| --- | --- | --- |
| The patio is a large square area directly at the back of the house but is now very run down and in serious need of repair or replacement. There is an area which is It has also been built too high and is too close to the DPC so the whole area needs to be lowered down. There are two parts to the patio, an area which is covered in old concrete slabs and another area covered in pea-shingle. Although this looks fine at the moment and well kept, at some point this whole are will need to be ripped up and a new one will be put down with a bit more character. | | |
December 2011
| | | |
| --- | --- | --- |
| For the past five years we have tried to keep the patio area usable in between using it for storage of building materials, fencing and rubbish. Every year the gravel area, which is used by the dog for her "business", became overgrown with weeds and it has been a constant battle to keep it under control. The major building works have been completed, including the workshop and wood store, so after years of hard work just trying to maintain it, we asked Floral and Hardy to come in and create a new comtemporary design for the whole area. | | |
January 2012
| | | |
| --- | --- | --- |
| Floral and Hardy came in to show us the design they have created for the patio, very very nice! Full of circles and interest and multiple areas for different times of the day. | | |
October 2012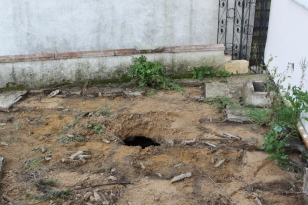 June 2013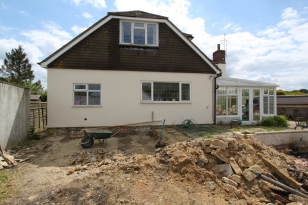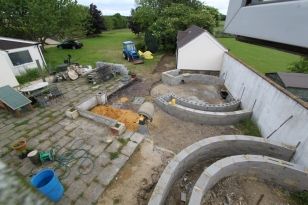 July 2013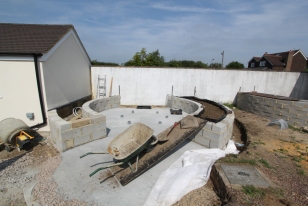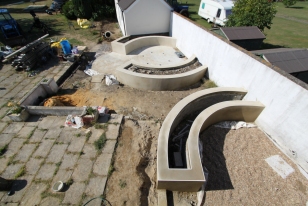 August 2013
Brian had to come back to repair a large area of the render which obviously had a poor mix. While Karen was gently rubbing down the planters ready for painting she noticed that it was extremely soft and just falling away.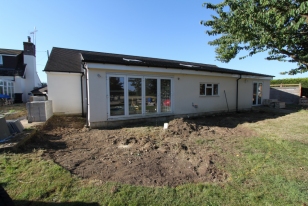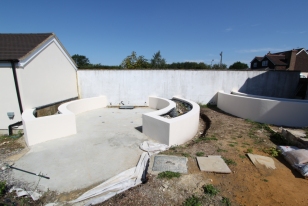 October 2013
We stopped off en route to the Copdock motorcycle show in Norfolk to visit Fernatix and buy lots of ferns to fill the planter around the
patio
.
November 2013
We noticed that the beading around the planter nearest the workshop has started to come away pulling big patches of render with it. The other planters are absolutely fine so this must be another "mix problem". We will have to contact the renderer to get him back to repair it before we can fill it with soil and complete the area.
April 2014
| | | | | |
| --- | --- | --- | --- | --- |
| | | After returning from Portugal for our 10th wedding anniversary, and with the improved weather, the work on the patio can begin again. Jason laid the sandstone planks outside the workshop which really gives a good idea of how good the whole thing will look when it is finished. We also started working on the path behind the games room, laying the concrete base and putting in the edging sets along the path and around the spa patio. We also started laying some of the limestone slabs in the circle after repositioning the water feature reservoir. | | |
May 2014
| | | |
| --- | --- | --- |
| The damaged planter was finally rerendered so Karen rubbed it down and painted it again along with the wall. Jason and I laid the concrete base in the circle outside the spa room with inserts ready for the uplights. He laid the sandstone planks on the path behind gamesroom and more slabs in circle while I installed the lighting around the workshop and set up the water feature. Cleared the patio ready to clear the area ready to begin the next part of the new design. On the last day of May we were given some old mirrored doors which we have been hung on the wall to form part of the contemporary feel we want. | | |
June 2014
| | | |
| --- | --- | --- |
| We installed more lights including a strip of LEDs in the ferns, spot lights and wall lights. The area between the planters was cleared by Karen again and the bamboo was planted. | | |
July 2014
August 2014
| | | | | |
| --- | --- | --- | --- | --- |
| | | We spent a day filtering the pile of soil outside the workshop and filled the final planter before planting the phormiums. | | |
September 2014
| | | | | |
| --- | --- | --- | --- | --- |
| | | Jasmine | | |